The days are getting longer, the nights are getting warmer, and we're ready to fire up the grill and eat some burgers! While a traditional grilled hamburger made from our 100% grassfed beef tastes good any day of the year, we've gathered up some some other burger inspiration for this grilling season.
Smoky Pork Burgers with Fennel and Red Cabbage Slaw
This recipe calls for finely diced bacon to be incorporated into ground pork burgers. Not only does it add some smoke, the fatty bacon will keep your pork burger juicy and moist as it cooks.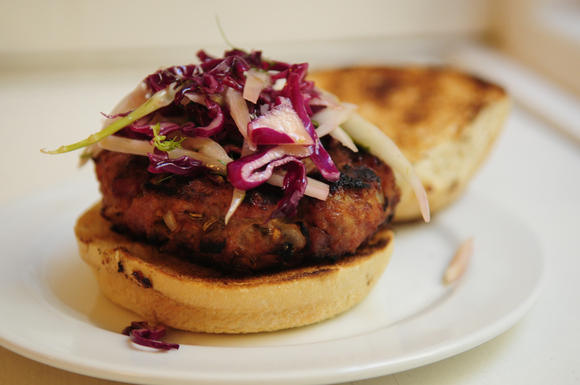 Chorizo Burgers with Avocado, Fried Eggs and Spicy Mayo
Using a 50/50 mix of our grassfed ground beef and spicy beef chorizo, we're certain this burger will be full of flavor, but why not go the distance and add avocado and a fried egg?
Southeast Asian Turkey Burger
This is not your average turkey burger. A paste of lemongrass, ginger, garlic, chile and fish sauce gets mixed with ground turkey. The burgers are garnished with a bright lime vinaigrette and a pile of fresh herbs.
Lamb Burger with Arugula, Feta & Cucumbers
These lamb burgers are seasoned with coriander and cumin and topped with a feta pesto.  Classic Mediterranean flavors are always play nice with lamb.
photos by Kimberley Hasselbrink,  Jennifer Hess and Frances Janisch